Within these courses you have access to vital, innovative information from an Internationally respected horsewoman.
Learn our cohesive system of bonding with horses through rapport and kindness rather than domination. With simple programs for maintaining health and soundness and methods of handling and riding based upon centuries old principles of communication with horses, your horse can enjoy these interactions as much as you will.
From In-Hand techniques and philosophies, to the use of herbs in horse care and healing, to riding in Harmony, without aggression; you will find gentle, simple help within our courses and methods.
"The body benefits from movement & the mind benefits from stillness" ~ Sakyong Mipham
"The whole idea of struggle brings you to a point of conflict; the antithesis of horsemanship" ~ Katharine Chrisley-Schreiber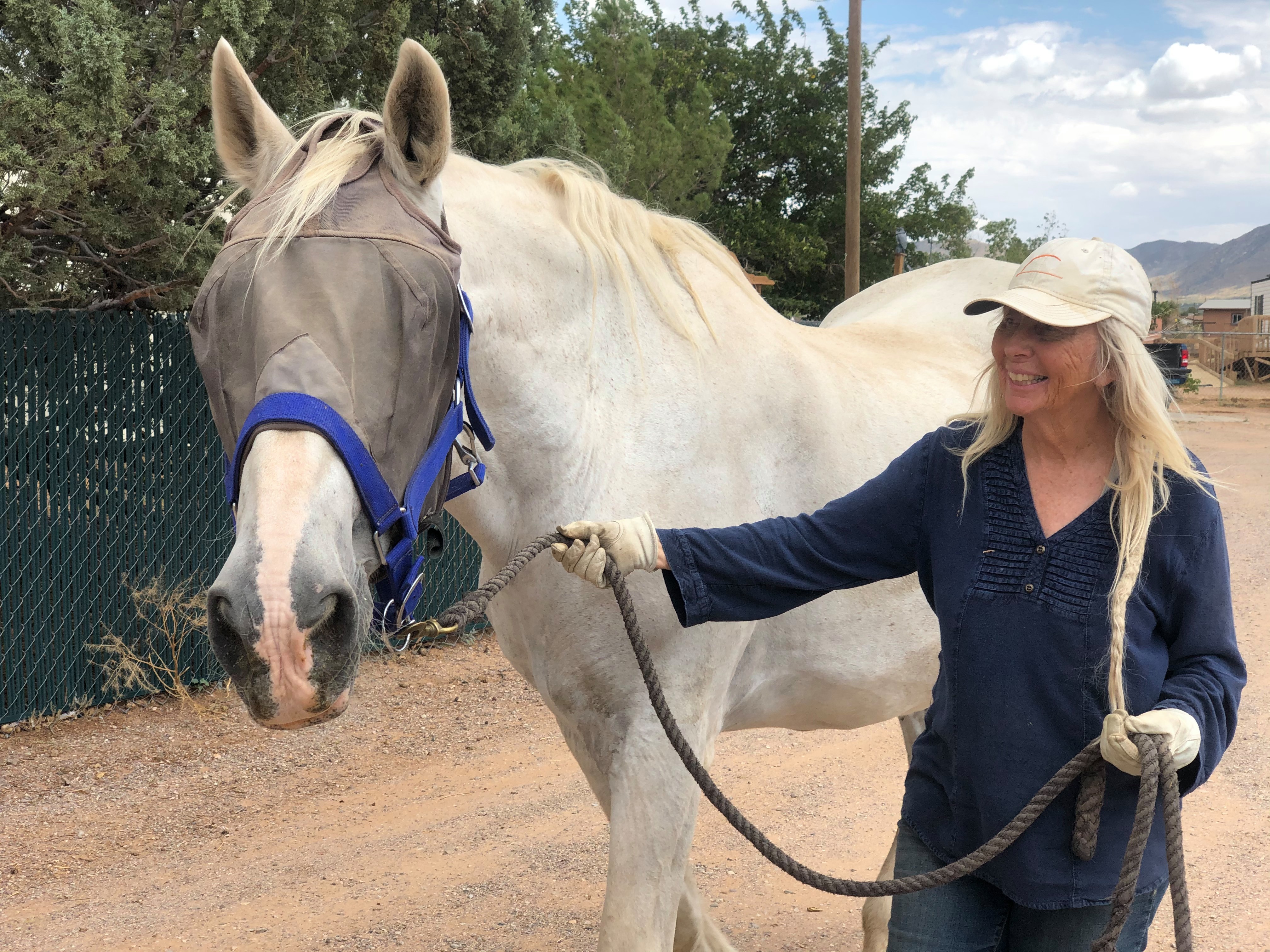 Hi, I'm Katharine Chrisley-Schreiber
You may know me from the film "Listening to the Horse", or my Interviews with Charles de Kunffy. Or, you may have read my articles in magazines from Dressage & CT, The Chronicle of the Horse to Western Horseman and Natural Horse Magazine. Perhaps you've heard my interviews on "Horse Chats".
I'm a life-long horsewoman who has studied under some of the world's Masters of Classical Horsemanship. I have ridden and taught most disciplines through 5 decades of study - from Western riding as a child, to Saddle Seat, Driving, then Hunter/Jumpers, finding and falling in love with Dressage and then Eventing. As I watched horses interact with humans, I saw patterns of comprehension and misunderstandings that were always based upon the actions (or lack thereof) of the human.
My grandmother was a midwife and herbalist, teaching me the way of her ancestors, inspiring me to get my degree as a Natural Health Counselor. I have a degree in Veterinary Assistance and worked for several equine Veterinarians through the years. I was in charge of the contagion block at a small animal hospital, which helps me now in my role as the Founder and CEO of Dharmahorse Equine Sanctuary in the high desert of New Mexico. We give respite, rehabilitation and compassion to horses at risk, often in need of healing or long term, special needs care. "Dharma" comes from the Sanskrit word "dhri" which means "to support" - we Support Horses.
Become a Student and learn to Bond with Horses.
We think of Stewardship instead of "ownership".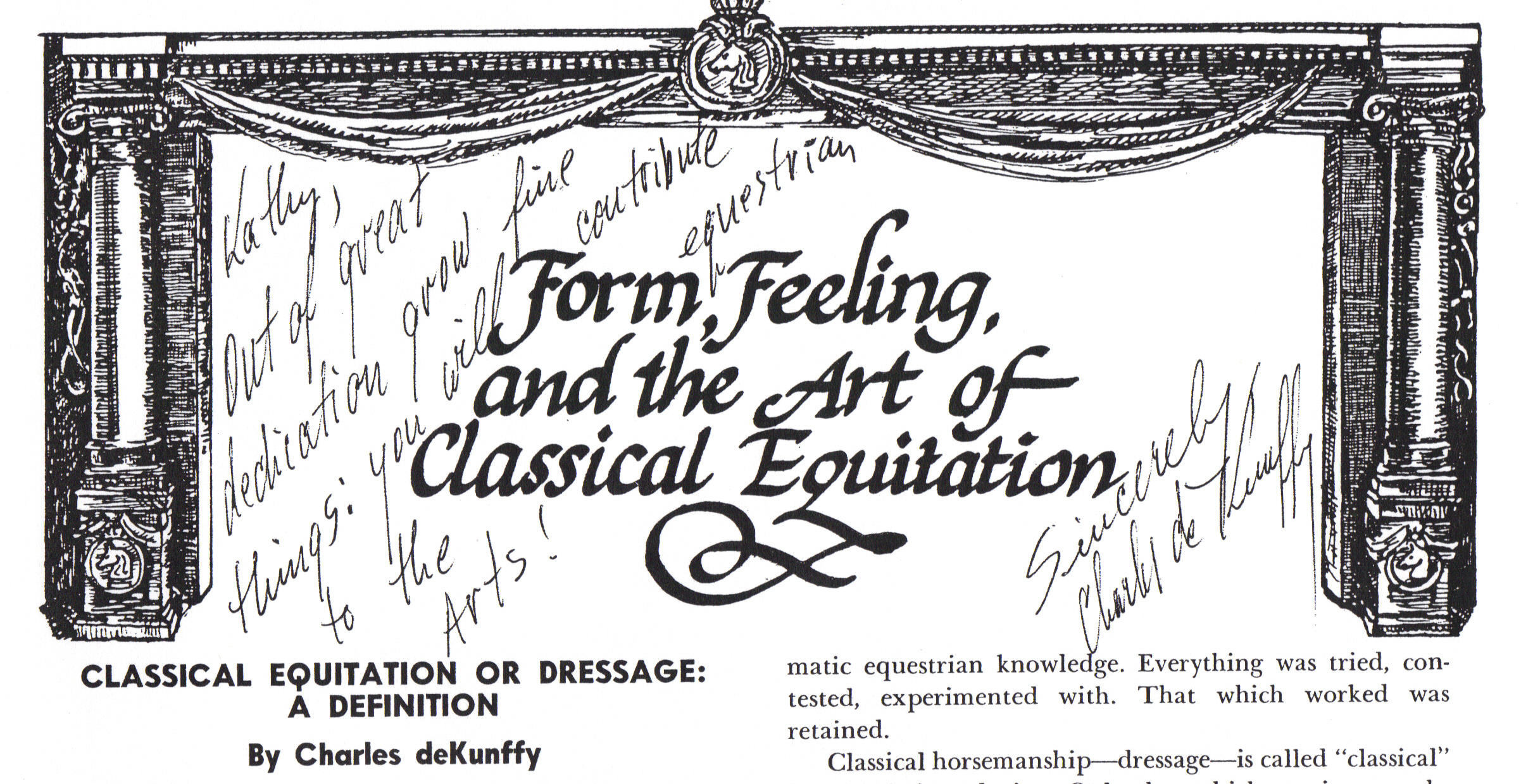 Katharine has studied under some of the world's most respected teachers. Her studies have spanned decades and created a solid foundation of Art, Compassion, Commitment and Love.
"Love is the active promotion of the well-being of the love object" ~ Erich Fromm
Testimonials
I am so glad that I decided to treat myself to a lesson with Katharine. What a wonderful experience! Not only does Katharine have the knowledge and expertise to teach but she has this peaceful energy about her that spreads through her horses to the rider which makes the entire experience incredibly relaxing. I was scheduled to go to the chiropractor the next day and after adjusting me, he was in awe and said that this was the easiest I have EVER been to adjust. I just felt happy and relaxed after just one lesson - my first ride in about 8 years. Okay, so I was a little muscle sore for a couple of days but that just kept reminding me what a great time I had.
I have been taking lessons from Katharine for about a year. It has really been a perfect place for me to learn the art of riding. Everything about Katharine is peaceful, gentle and kind. The animals are all treated with respect and kindness, and so are the people. I am an older rider and new to horses in general. Katharine's teaching style is peaceful, kind, and gentle too. She does not belittle her students, nor does she treat the student or horse harshly if a mistake is made. If I don't do something right initially, she helps me understand why it wasn't right, and why the correct way works better. She is patient with both the rider and the horse, and is quick to adjust the "lesson plans" depending on the horse and the rider she is working with on that particular day.  I have ridden several of the equines in my lessons, including darling Molly the mule. All the horses (and mule) are well trained, and I have learned something different from each of these sweet creatures. In addition to sharing her expertise in riding, Katharine is also always willing to share her extensive knowledge about holistic animal care and health . As a new horse owner, I have learned loads from her about caring for my own animals. Regardless of my mindset when I arrive for a lesson, I always leave feeling a little more peaceful and knowledgeable. 
Kat Rolen
Katharine,
I want to just send you a note and tell you how much I appreciate what you have taught my daughter in a very short period of time. This may take a minute to explain but I hope you will read it and know how grateful I am!
This summer we had riding lessons with you that profoundly impacted my little girl. We were only with you for a short period of time so I hope you remember us.
We returned back to Germany and I attempted to find riding lessons for Malie to continue what she was learning with you. We have attempted to go to find a stable in the area. We have located a couple and visited. We chose one based on what we could gather. We arrived and the owners would not allow Malie to touch the horse to get to know him before mounting the horse. The experience we will just say was not positive - in any way. A lot of yelling and hurting the riders and the horses. It ended with them leaving Malie on the horse in the arena by herself without a mounting block. She was in there for a good 10 minutes before she attempted to get off the horse - the way that you taught her to get on and off Grits. She ended up falling off of the horse (a very large horse) on her way down (I couldn't get to her - I was blocked from the arena). She got up stroked the horse and calmed it and her. Needless to say the loving care Malie was showing toward the horse was not supported by the owner. She cleaned the hoofs and walked the horse back to it's stall waiting still for help to get the equipment off of him. Finally about 30 minutes later someone came and asked why she hasn't finished yet. They showed her how to take the saddle and equipment off of the horse and put him in the stall. She wanted to rub him down and they wouldn't let her just told her to go and he would be fine. 
We were on our way to the car and she turned to me and told me "Momma I do not want to come back - I do not like the way that they yell at the horses and treat them". She said "I want to go back to Katharine and continue my lessons. I like the loving way that Ms. Katharine has with Magic and Grits and myself. I want to learn more of that. I do not ever want to learn what they want to teach me" 
I am so proud of her for this. I am so very grateful that she has you as a model for the way that she wants to be with the horses she will ride in the future!  I am hopeful she will get to spend more time with you and your lovely sanctuary when we return this summer.
Forever Grateful! 
Barbara Cooper
I have been taking lessons with Katharine for over a year and find her approach to horsemanship both enlightening and fundamentally practical. I began as a slightly nervous rider through negative past experiences and Katharine was very understanding and encouraging of me to gain confidence, while never pushing me further than I felt safe with. I have developed strong relationships with her horses, each of which is very much an individual with his or her own quirks and personality. I have learnt how to adapt my riding to the horse to work in partnership, which gives both me and the horse confidence in what we are doing. My lessons are mostly schooling, but we have also been on trail rides through the nearby desert, which is a wonderful experience.
I would recommend Katharine to people of all ages who want to develop riding skills while gaining a more complete understanding of horses.
Pip Lyons, New Mexico
I have been participating with Katharine for the past year and it has been a truly rewarding and amazing experience.
When I was a kid, I took horseback riding lessons for a short period of time. I was young and scared and was taking lessons with a group of kids my age. When it came to trotting, I was scared, but I didn't tell the trainer, and she never asked. When the horse wouldn't trot (because I didn't really want to trot) the trainer slapped the horse on its rear end and it started to trot. I was so scared and unprepared that I fell off! They convinced me to get back on the horse right away but I never got back on it again after that day.
I have always loved horses and wanted to reconnect with them. When I was looking for lessons, I specifically wanted to find someone who would teach me to care for the horse, connect with the horse, and to ride with the horse rather than focus on "mastering" the horse. I found Katharine's company, which is based on compassion and connection. After my first lesson, I knew that this was exactly what I was looking for. Each lesson, I learned more and more about safety around this giant but gentle creature, and how to take into consideration where the horse is coming from when riding.
Probably one of the most important things I have learned is that the horse is a mirror of our self. When I was first riding, my lack of confidence showed when trying to get the horse to something as simple as walk. I learned from Katharine and the horses that you can be firm and confident while still being kind. All my life, I have only ever considered being kind as the most important trait. After practicing this concept with the horses, I have seen it spill out into my personal and professional life, and it has made a huge difference. And it certainly showed the first time I trotted! I trusted the horse knew what to do and I trusted myself as well and it was amazing.
Katharine and her wonderful horses have become a part of my life. I look forward to every weekend when I can ride and learn something new. I also look forward to every other Friday for Stablewomen where we learn more and more about horsemanship and how we can positively affect a horse's life and share how they positively affect ours.
Katie McGinn, New Mexico
I have been working with Katharine this past year with riding lessons, spiritual guidance, and herbal/natural health education. I feel that all aspects of my life (business, personal, and spiritual) have been greatly improved since connecting with Katharine. I have owned, worked with and ridden horses most of my life. However, after having a couple painful falls, I avoided riding for several years. Not owning a horse at the time, I was reluctant to ride other people's horses. Katharine has helped me regain my confidence and trust in riding by providing a safe, and comfortable environment. She focuses on communicating with the horse so the rider can better understand what and why they are asking of their horse. I have watched Katharine teach lessons to other clients, and she is supremely adept at teaching new concepts from the most novice to the most experienced rider.
 Additionally, I have had the opportunity to participate in several of the Stable Women classes. This is a great opportunity to meet other women with similar interests and work on building that bond and communication with horses. The class is a wonderful time to learn and reflect on different horsemanship concepts with out any judgment.  
 Finally, with my business involving therapeutic massage for horses and dogs, I asked Katharine to teach me about Reiki. She gave me my Reiki I attunement. Since my attunement, I feel more in touch with my patients and able to provide a better healing/comfort effect for them. Katharine has also taught me a lot on natural remedies for a healthier lifestyle. Her knowledge base on herbs and oils are immeasurable, and my own personal health has greatly improved since shifting more to a natural lifestyle.
Vivienne Beauchemin
The other evening I went out to feed and saw that my gelding couldn't even support himself on his right front leg. It actually dangled as if there were no feeling in it at all. I examined him and saw a faint hoofprint on his shoulder and realized he had been kicked by one of the other horses.
I called Katharine and she made an oil with nettles and comfrey and I started applying it to his shoulder that night. The next morning I was surprised to see him using the right front, although favoring it. I did the warmed oil on his shoulder twice a day until it was gone, about 3 days. Within two days he was trotting and by three he cantered.
She also recommended an off the shelf product to me when my miniature horse had a large lump on his shoulder that he had rubbed into an open wound. Twice a day application and within 2 to 3 weeks the wound had healed and the lump had almost disappeared. I personally think she is the all around most knowledgeable horse person in the area.
Jerry Crenshaw
Your friendship, guidance, knowledge, and support, have changed my life. You have helped me help my horses many times, and in return, I have managed to also help my neighbors horses too. If you wouldn't have mentioned Reiki to me, I would have never been able to help my family and friends the way that I have, and continue to do. I will be forever grateful!!! Namaste!!!
Michelle Howes-Stein
I have known Katharine Chrisley for twelve years and have been privileged to experience firsthand her knowledge of and deep love for horses, and her willingness to share her experience with those who choose their own horse journey. The horses' emotional and physical needs are always first and foremost in the daily care and training of the rescue horses at her sanctuary. She has had extensive education and experience in all aspects of riding and horsemanship, and her ability to combine spirituality, guidance, and compassion to help create a connected, responsive relationship between horse and rider is unparalleled. I recommend her classes without reservation. 
Marianne McNamee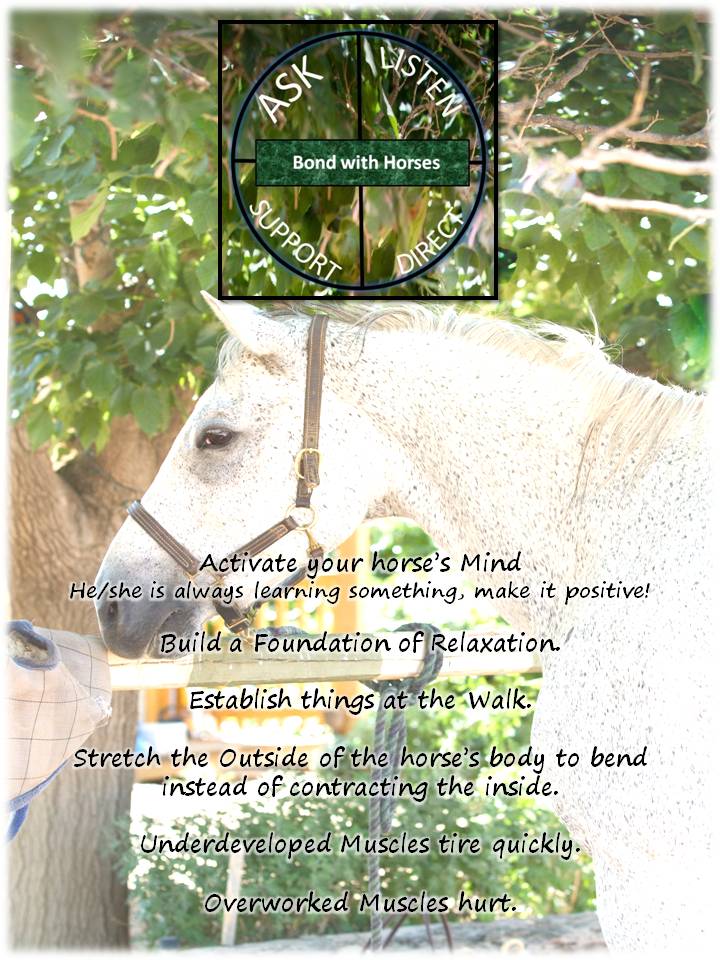 HORSES KNOW HOW TO BE HORSES
We must learn how to be compassionate stewards for them. Not just providing the necessary basics to be humane (water, food, shelter, companionship, hoof & dental care, Veterinary & Hoof Trimmer services), but to learn to listen and respond to all of their needs.
"We are responsible, forever, for what we have tamed"
We owe them kindness, consistency and clarity in our interactions with them.